The IVD Contract Manufacturing Services providers offer a range of custom and contract manufacturing services for diagnostic manufacturers. The growth of IVD contract manufacturing services market is mainly driven by the increasing need for IVD devices due to the rising prevalence of infectious diseases, the shift in focus from centralized laboratories to point-of-care testing services, regulatory complexities faced by IVD companies, and the need for cost effective manufacturing of IVD tests. Further, the high economic growth and increased outsourcing to emerging countries is expected to offer significant growth opportunities. However, maintaining product quality and protection of proprietary information hinder the market growth.
The IVD Contract Manufacturing Services Market is expected to reach $20.6 billion by 2028, at a CAGR of 7.7% during the forecast period of 2021–2028
Top 10 Companies in IVD Contract Manufacturing Services Market
Savyon Diagnostics
Founded in 1984 and headquartered in Ashdod, Israel, Savyon Diagnostics develops and manufactures reagents and instrumentation for the clinical diagnostics suppliers. The Analytical Unit of the company includes the wide range of services offered to the pharma, biotech, IVD, and life sciences communities. Services include assay development, contract manufacturing, logistics, QA, and RA consulting. Worldwide, the company has a network of over 80 distributors.
KMC Systems, Inc.
Elbit Systems Ltd. operates in the IVD contract manufacturing business through its subsidiary KMC Systems. KMC Systems, founded in 1980 and headquartered in New Hampshire, U.S., develops, designs, and manufactures complex, automated systems for market segments such as molecular diagnostics, microbiology, hematology, cell therapy, life sciences, diagnostic imaging, and point of care.
Cenogenics Corporation
Founded in 1981 and headquartered in New Jersey, U.S., Cenogenics is involved in manufacturing, distribution, and contract manufacturing of in-vitro diagnostic tests. The company manufactures and distributes immunodiagnostic test systems for syphilis, C-reactive protein, rheumatoid factor, infectious mononucleosis, febrile antigens, brucella rose bengal antigen, rapid tests for pregnancy and ovulation, and tests for other diseases. The company contract manufactures diagnostic tests and bulk reagents for other manufacturers in 15 countries. Contract manufacturing services also include packaging, filling, and compounding. The company's line of diagnostic products is distributed in 60 countries.
Nova Biomedical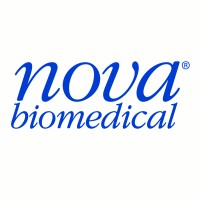 Founded in 1976 and headquartered in Massachusetts, U.S., Nova Biomedical develops and manufactures advanced technology blood testing analyzers and diagnostic products. The analyzers business is divided into eight categories: hospitals, clinics, blood banks, pre-hospital/ambulance, biotechnology, veterinary, sports medicine, and self-testing. The company operates in 100 countries through wholly-owned subsidiaries in Brazil, Canada, France, Germany, the U.K., Japan, Italy, Spain, Switzerland, and the U.S. and through distributors in 92 countries. The company has 420,000 square feet of development and manufacturing facilities in Massachusetts (U.S.) and Taipei (Taiwan).
Cone Bioproducts

Founded in 1970 and headquartered in Texas, U.S., Cone Bioproducts produces diagnostic test kit components. The company provides services such as contract manufacturing, analyte test menu, and custom control manufacturing. Cone Bioproducts offers extensive in-house testing for chemistry, immunology, immunoassay, serology, and HbA1c analytes.
"Meticulous Research in its latest publication on IVD Contract Manufacturing Services Market has predicted the growth of 7.7% during the forecast year 2021-2028"
Invetech Inc.

Founded in 1987 and headquartered in Melbourne, Australia, Invetech designs, engineers, and manufactures commercial-scale products for diagnostics & life sciences, point of care diagnostics, and cell & gene therapies. The company offers services like product design & development, manufacturing automation for cell & gene therapies, formulation & fill, 3rd generation filling system, and contract manufacturing. The manufacturing facilities are present in the U.S. and Australia. The manufacturing solutions result from prototyping and small batch production to pilot production lines and full-volume production. Invetech is a wholly owned subsidiary of Fortive Corporation (U.S.).
Avioq Inc.
Founded in 2005 and headquartered in North Carolina, U.S., Avioq manufactures IVD devices and is a contract manufacturing organization. The services provided by the company include cell culture development, IVD assay development, and IVD contract manufacturing. The IVD assay development services majorly involve ELISA assay development and IVD product development for clinical labs.
Meridian Bioscience Inc.

Meridian Bioscience develops, manufactures, and distributes a broad range of innovative diagnostic test kits, rare reagents, specialty biologicals, and components. Meridian Life Science is part of Meridian Bioscience, Inc. (U.S.), which offers products and services that help to advance the development of diagnostic assays. The company offers services such as custom and contract manufacturing of antibodies and bioresearch reagents, contract services including process development capabilities both upstream and downstream, pilot, scale-up and commercial scale, and cell and viral banking.
Meridian Bioscience provides solutions to hospitals, reference laboratories, research centers, veterinary testing centers, physician offices, diagnostics manufacturers, and biotech companies in more than 70 countries around the world. The company has its geographic presence across countries which includes Canada, China, Israel, Australia, the U.K., Germany, France, Belgium, and Italy.
In-Vitro Diagnostic Developers Inc. (IDXDI)
Founded in 2015 and headquartered in California, U.S., IDxDI is a contract development and manufacturing company. The company works in all areas of diagnostic test development, which includes antibody production, aptamer generation, recombinant protein expression, antigen conjugation, and protein purification. The company has done custom development of rapid test products such as EIA, ELISA, lateral flow, microfluidics, molecular diagnostics, and nanotechnology. IDxDI offers a complete line of test development services ranging from immunoassay to molecular diagnostics. Also, the manufacturing services, from manufacturing a single reagent to producing complete diagnostic tests, are provided by the company.
LRE Medical

Founded in 1961 and headquartered in Noerdlingen, Germany, LRE Medical develops various diagnostic products. The clients of the company range from startups and medium-sized companies to large IVD, life sciences/analytics, and medtech industries. Noerdlingen (Germany) holds the production and logistics departments, while the product and systems development site is present in Munich (Germany). The production facility is 3,500m2 in size. The company has around 270 employees.
Popular Mentions: TCS Biosciences Ltd (U.K.), Affinity Life Sciences, Inc. (U.S.), Affinity Biologicals Inc. (Canada), Biokit S.A. (Spain), Merck KGaA (Germany), Thermo Fisher Scientific Inc. (U.S.), Maxim Biomedical, Inc. (U.S.), and Coris BioConcept (Belgium)
Amidst this crisis, Meticulous Research® is continuously assessing the impact of the COVID-19 pandemic on various sub-markets and enables global organizations to strategize for the post-COVID-19 world and sustain their growth. Let us know if you would like to assess the impact of COVID-19 on this industry here – Request Free Research PDF 
Authoritative Research on the IVD Contract Manufacturing Services Market – Global Opportunity Analysis and Industry Forecast (2021-2028)
Need more information? Meticulous Research®'s new report covers each of these companies in much more detail, providing analysis on the following:
Recent financial performance
Key products
Significant company strategies
Partnerships and acquisitions
Impact of COVID-19 on IVD Contract Manufacturing Services Market
The Comprehensive report provides global market size estimates, market share analysis, revenue numbers, and coverage of key issues and trends.
Please download report pages of IVD Contract Manufacturing Services Market and learn more:https://www.meticulousresearch.com/download-sample-report/cp_id=5226