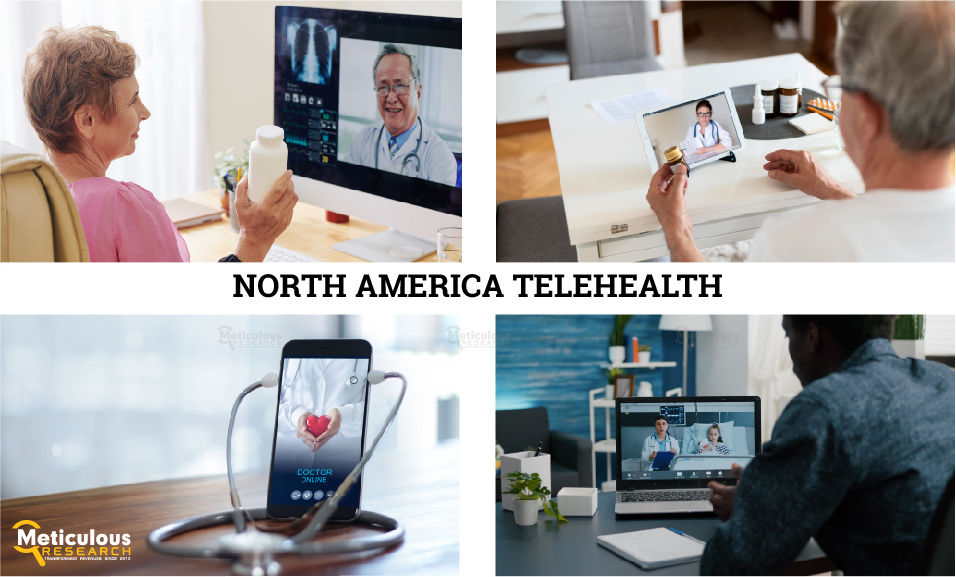 Telehealth has rapidly evolved in recent years. Technological advancements including high speed communication networks, improved storage medium, security, application development, mobile technology, cloud computing, and digitization has led to the transformation in uptake of telehealth. Telehealth is promptly becoming a critical part of the healthcare industry as it enables hospitals, physicians, payers, and employer groups to reduce costs while improving quality of care.
The North American telehealth market is expected to grow at a CAGR of 24.3% from 2018 to 2024 to reach $9,496.6 million by 2024 from $2,572.9 million in 2018.
AMD Global Telemedicine, Inc.
Founded in 1991 and headquartered at Massachusetts, U.S.; AMD Global Telemedicine, Inc. is engaged in providing clinical telemedicine equipment and technology for connecting a patient with a remote healthcare provider or specialist. The company assists in the ENTIRE patient encounter experience: carts/systems, specialized medical devices/equipment, and encounter management software.
The company delivers telemedicine technology to every continent, with over 9,000 installations in more than 98 countries, establishing a strong geographic presence across North America, Europe, Asia-Pacific, Latin America, and Middle East & Africa.
American Well
Founded in 2006 and headquartered at Massachusetts, U.S.; American Well offers software, services, and access to clinical services to health plans, health systems, employers, brokers, Government, nursing facilities and population health. American Well is one of the leading providers of telemedicine services in the U.S. The company offers a mobile and web service that connects doctors with patients for live, on-demand video visits over the internet and handles all the administration, security, and record keeping.
To enhance its acute care capabilities and leverage the growing provider telehealth market segment, in April 2018, American Well entered into a definitive agreement to acquire Avizia, a hospital telehealth company.
Care Innovations, LLC
Founded in 2010 and headquartered in California, U.S. Care Innovations, LLC, a wholly-owned subsidiary of Intel Corporation, connects the care continuum to the home and makes it easier for patients and care providers to interact and achieve better health at home. The company offers in-home management platform applications for managing medical conditions and assisting elderly patients.
The company provides its products and solutions to the healthcare organizations across the U.S.
Cerner Corporation
Founded in 1979 and headquartered in North Kansas City, Missouri, U.S.; Cerner Corporation is actively involved in building and providing intelligent solutions and services for the health care industry. The company operates through four business segments – Services, System Sales, Support and Maintenance, and Reimbursed Travel.
The company provides technologies that connect people and systems by wide range of services with 27,000 provider facilities worldwide to support the clinical, financial, and operational needs of organizations of every size. With a strong network of its subsidiaries and distributors, the company has its geographic presence in Africa, Asia, Central America, Europe, Middle East, North America, Oceania, and South America.
Cisco Systems, Inc.
Founded in 1984 and is headquartered at California, U.S.; Cisco Systems, Inc. develops, manufactures and sells Internet Protocol (IP) based networking hardware, telecommunications equipment and other high-technology services and information technology products. The company provides it solutions to education, insurance, energy, manufacturing, financial services, retail, government, healthcare, sports & entertainment, hospitality, and transportation.
With a large number of distributors and subsidiaries the geographic presence of the company is seen in North America, Europe, Africa, Asia-Pacific, Greater China, Latin America, and Middle East.
Meticulous Research in its latest publication on global North American telehealth market has predicted the growth of 24.3% during the forecast year 2018-2024.

 
Doctor on Demand, Inc.
Founded in 2013 and headquartered in California, U.S., Doctor on Demand, Inc. enables patients to connect with board-certified physicians for numerous medical, pediatric and mental health conditions. The company provides video telemedicine solutions, offering on-demand and scheduled visits with US-licensed healthcare providers via any smartphone, tablet, or computer.
The company develops its telemedicine solutions for employers, health plans, retail clinics, and health systems.
Honeywell Life Care Solutions
Founded in 1999 and headquartered in Wisconsin, U.S.; Honeywell Life Care Solutions develop and delivers digital health technologies for healthcare systems, payors, employers, home health agencies, and individuals to improve the quality and cost efficiency of care. The company offers solutions for remote patient monitoring from telehealth to telecare, including monitoring services, remote patient management applications, decision support, and evidence-based disease management.
In January 2015, Honeywell HomMed changed its corporate name to Honeywell Life Care Solutions to reflect the company's broader healthcare commitment and its expertise in driving the innovations needed to shape the future of health management through digital technology solutions.
The geographic presence of the company is seen in North America, Europe, Asia-Pacific, Latin America, and Middle East & Africa.
InTouch Technologies, Inc.
Founded in 2002 and headquartered at California, U.S.; InTouch Technologies, Inc. does business as InTouch Health and provides technology-enabled solutions to healthcare organizations for the delivery of clinical care virtually. The company also provides Viewpoint, a software solution that allows consumer smart devices, such as PCs or iPads to be used with the InTouch Telehealth Network. Program development services offered by the company include structured planning, strategy development, physician planning, clinical planning, technology implementation, and program expansion and marketing.
InTouch Health provides dedicated cloud-based network and virtual care solutions that ensure connectivity for health systems, providers, and patients. The company provides its telehealth solutions to long-term care centers, rehabilitation centers, hospitals and clinics, and healthcare organizations present across the world.
MDLIVE Inc.
Founded in 2006 and headquartered in Florida, U.S., MDLIVE Inc. provides access to board-certified physicians and licensed therapists through a secure online video and phone network technology platform for patients, health plans, health systems and self-insured employers to access for medical and behavioral healthcare.
The company's telemedicine services are designed to replace ER or urgent care visits for non-emergency issues, including sore throats, asthma, skin rash, fever, and more and the company also offers virtual behavioral health therapy through video or phone, where licensed therapists consult with patients on issues such as marital problems, child behavior & learning issues, financial hardship, and coping with loss & grief.
Medtronic PLC
Founded in 1949 and headquartered at Minnesota, U.S.; Medtronic PLC is a leading medical technology, services, and solutions provider. The company is among the world's largest medical equipment development companies and the primary products of the company are for cardiac rhythm disorders, cardiovascular disease, advanced and general surgical care, respiratory and monitoring solutions, neurological disorders, spinal conditions and musculoskeletal trauma, urological and digestive disorders, and ear, nose, and throat and diabetes conditions. In August 2013, Medtronic added telehealth services to its portfolio with acquisition of telehealth firm Cardiocom.
With large number of distributors, the company has its geographic presence in North America, Europe, Asia-Pacific, Latin America and Middle East & Africa serving physicians, hospitals and patients in approximately 160 countries.
Popular Mentions: Koninklijke Philips N.V., Polycom, Inc., Sherpaa, Siemens AG, SnapMD, Inc., and Teladoc, Inc., Vidyo, Inc., and Zipnosis
Authoritative Research on the North America Telehealth Market – Global Opportunity Analysis and Industry Forecast (2018-2024)
Need more information? Meticulous Research®'s new report covers each of these companies in much more detail, providing analysis on the following:
Recent financial performance
Key products
Significant company strategies
Partnerships and acquisitions
The Comprehensive report provides global market size estimates, market share analysis, revenue numbers, and coverage of key issues and trends.
Please download report pages and learn more: