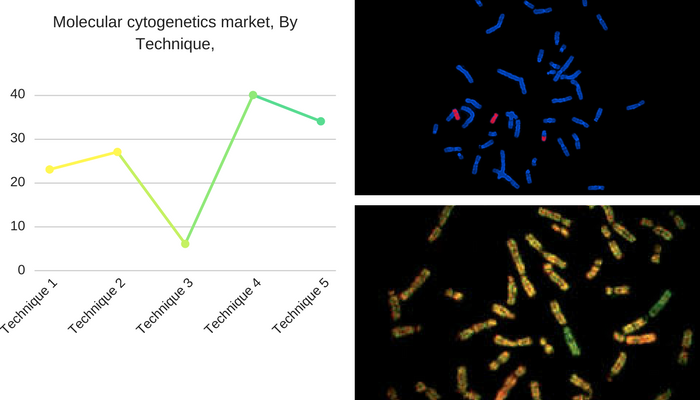 Molecular cytogenetics plays an important role in diagnosis of various diseases. Based on the type of diseases, the diagnosis can be possible using various cytogenetic techniques such as Fluroscence In Situ Hybridization (FISH), In Situ Hybridization, Karyotyping, Banding Techniques, and others. The banding techniques have been used since past decades because of their easy accessibility and availability. However, due to its drawbacks in identifying genetic diseases at submicroscopic level, it is further modified into in situ hybridization. Currently, the FISH plays a major role in diagnosis of various diseases at genetic level using advanced molecular cytogenetic products. FISH is mainly used to detect the chromosomal aberrations such as deletion, duplication, insertion, and gene expression. It can be applicable to any specimen. Also, it is suitable for heterogeneous breakpoints or multiple translocation patterns. However, it has less sensitivity for detecting the genetic abnormality and requires expertise to interpret the results as there is a risk of getting false positive results. However, with the growing need to diagnose diseases at molecular level, array based technologies have emerged and preferred over FISH technique.
Array based techniques are preferred over FISH since the high resolution, locus specific analysis, and genome wide evaluation are combined in a single technique. Also, the sensitivity of these techniques is high compared to FISH which is useful for researchers in the detection of microdeletions. The array based techniques are used in detection of any type of cancers since they are able to screen whole genome variations compared to FISH. The microarray uses 1000 probes at a time, whereas FISH uses only one probe. The use of these many probes at a time makes the diagnosis easy and quick. This technique is also useful in the detection of abnormalities in all 24 chromosomes, whereas FISH has limit up to 12 chromosomes.
The use of array is mostly in detection of copy number variations which is not applicable for FISH. Thus, because of the number of benefits provided by array-based techniques, their use by various end users is increasing for both qualitative and quantitative detection of genetic diseases. These techniques not only improve the sensitivity of diagnosis but also the accuracy of results. This transition helps in use of diagnostic products to large extent.
The major companies such as Thermo Fisher Scientific, Illumina Inc., Agilent Technologies, and Oxford Gene Technology are manufacturing array based products in order to accelerate research. They are providing sophisticated technology for running thousands of samples at a time to analyze genetic variations efficiently.
Hence, owing to the unique properties and increasing applications in various products, array based techniques has been witnessing a rapid growth in the molecular cytogenetics market, which is expected to grow at CAGR of 11% to reach USD 2,266.4 million by 2022, according to the Meticulous Research.
Browse in depth Report: https://www.meticulousresearch.com/download-sample-report/?cp_id=3067