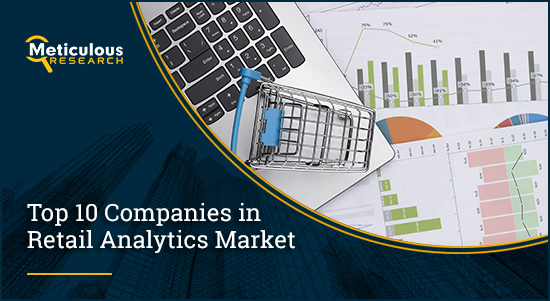 The advent of computer vision in retail, growing significance for the enhancement of customer experiences and retail operations, and growing e-commerce sector and adoption of analytics by online retailers are the major factors driving the growth of the overall retail analytics market. In addition, the rising adoption of disruptive technologies to forecast future market trends is expected to offer significant growth opportunities in this market. However, lack of technology adoption by the unorganized retail sector and legal concerns & data privacy issues can obstruct the growth of this market. The incorporation of cloud services with modern retail analytics is one of the most recent trends observed in this market.
Retail analytics market  is expected to reach USD 23.8 billion by 2027, at a CAGR of 19.1% during the forecast period of 2020 to 2027.
Here are Top 10 Companies in Retail Analytics Market.
SAS Institute Inc.

Founded in 1976 and headquartered in Carolina, U.S., SAS provides advanced business analytics and business intelligence software and services to enable companies to optimize their operations. SAS empowers and inspires customers worldwide to transform data into intelligence through its Innovative Software and Services segment. SAS retail solutions help enterprises to gain a complete view of business and customers, create assortments based on customer preferences, invoke the most relevant engagement strategy for each customer, and optimize supply chain and retail operations at every step of the customer journey.
SAP SE

 SAP is a technology company that develops enterprise application software. It offers solutions covering various business lines, including enterprise resource planning and finance, customer relationship management and customer experience, network and spends management, digital supply chain, HR and people engagement, and more. The company serves energy and natural resources, financial services, consumer, public services, automotive, aerospace and defense, and other industries. The company's retail solutions help enterprises drive efficiency and deliver relevant, personalized customer experiences anywhere, anytime. With its subsidiaries and strong distribution network, the company has its presence across the EMEA, Americas and APJ.
Salesforce.com, Inc.

 Salesforce is a cloud-based software company that provides customer relationship management (CRM) services. The company also provides a complementary suite of enterprise applications focused on customer service, marketing automation, analytics, and application development. Salesforce's services are the tools for case, task, and issue management. It also gives customers tracking abilities for their raised cases and conversation features for social networking websites by providing analytical tools and other services, including email alerts, Google search, and access to customers' entitlement and contracts.
Salesforce CRM for retail helps retailers keep customers' needs top of mind. Salesforce connects sales associates, partners, and employees with the key information they need to provide the right products and the kind of service that builds loyalty. With its subsidiaries and strong distribution network, the company has its presence across the Americas, Europe, and Asia-Pacific.
Microsoft Corporation

 Microsoft is a technology company. The company develops, licenses, and supports a range of software products, services, and devices. The company's segments include Productivity and Business Processes, Intelligent Cloud, and More Personal Computing. Microsoft's products include operating systems; cross-device productivity applications; server applications; business solution applications; desktop and server management tools; software development tools; video games, and training and certification of computer system integrators and developers.
It also designs, manufactures, and sells devices, including personal computers (PCs), tablets, gaming and entertainment consoles, phones, other intelligent devices, and related accessories, that integrate with its cloud-based offerings. It offers various services, including cloud-based solutions that provide customers with software, services, platforms, and content, and it provides solution support and consulting services.
Microsoft's retail analytics product portfolio provides personalized experiences, gains visibility across the end-to-end supply chain, and unlocks innovative business models—with secure and scalable cloud-based technology.
With its subsidiaries and strong distribution network, the company has its presence across North America, Europe, Asia-Pacific, Latin America, and the Middle East & Africa.
IBM Corporation

 IBM manufactures and sells hardware & software solutions and delivers numerous hosting and consulting services from mainframe processors to nanotechnology domains. The company has a diverse portfolio of products and services based on various technologies, including artificial intelligence, IoT, cloud computing, and cybersecurity. IBM is the world's enterprise AI leader and largest cybersecurity enterprise. It provides services to enterprises and leaders in diverse industries, including financial services institutions, manufacturers, retailers, and more.
With its subsidiaries and strong distribution network, the company has its presence across the Americas, Europe, the Middle East/Africa, and Asia-Pacific.
A report into the projected growth of the current Retail Analytics Market  by Meticulous Research® has produced some incredible forecasts for the industry. By 2027, it's expected to have grown at a CAGR of 19.1%, reaching over 23.8 billion.
Oracle Corporation
 Oracle is a technology company that provides organizations worldwide with computing infrastructure and software to help them innovate, unlock efficiencies, and become more effective. Oracle designs, manufactures, and sells software and hardware products and offers services that complement them (such as financing, training, consulting, and hosting services). Oracle Retail Analytics solution offers a rich business intelligence solution to retail industry users. This solution provides complete, enterprise-wide insight for retail users, enabling fact-based actions and intelligent interactions. With its subsidiaries and strong distribution network, the company has its presence across the Americas, EMEA, and Asia-Pacific.
QlikTech International AB
Founded in 1993 and headquartered in the U.S., QlikTech develops business intelligence solutions. The company operates software platforms that combine enterprise-class analytics and search functionality into a single application. The company's retail data analytics platforms seamlessly combine all shopping data across channels, generates valuable insights, and helps transform retail operations to be faster, smarter, and more customer-centric. As retail becomes faster and more connected, QlikTech puts powerful, easy-to-understand data analytics into the hands of store employees so they can make smarter, on-the-go decisions right at the shelf, with the customer, or in the back office.
With its subsidiaries and strong distribution network, the company has its presence across the Americas, Europe, the Middle East & Africa, and Asia-Pacific.
FUJITSU Limited

 FUJITSU is one of the world's leading makers of computers, semiconductors, and telecommunications equipment. The company offers a wide range of products and services in personal computing, enterprise computing, storage products, telecommunications, advanced microelectronics, and air conditioning.
The FUJITSU Retail Engagement Analytics solution provides retailers with actionable shopper intelligence to help improve shoppers' experience and store performance. Creating a unique and engaging experience for shoppers is critical to driving store sales and is vital to retailers' success. The solution delivers a reliable way to track, capture, dissect and analyze shopper behavior and engagement with precision, scale, and effectiveness. With its subsidiaries and strong distribution network, the company has its presence across Japan, EMEIA, the Americas, Asia, and Oceania.
HCL Technologies

HCL Technologies is a next-generation global technology company. The company offers an integrated portfolio of products and services through three business units—IT and Business Services (ITBS), Engineering and R&D Services (ERS), and Products and Platforms (P&P). ITBS enables global enterprises to transform their businesses via Digital Foundation. ERS offers engineering services and solutions in product development and platform engineering. Under P&P, HCL provides modernized software products to global clients for their technological and industry-specific requirements.
HCL offers 'One Stop Retail Solutions' – a robust retail management system that combines integrated business processes, information technology, and infrastructure management solutions. HCL's cutting-edge retail solutions facilitate retailers across the globe to deliver a top-notch customer experience. The company's omni-channel retail solutions can help offer consumers a seamless experience of purchasing items online or in a store.
With its subsidiaries and strong distribution network, the company has its presence across the Americas, Europe, India, and the Rest of the World.
Amazon Web Services Inc.

 Amazon Web Services (AWS) provides on-demand cloud computing platforms and APIs to individuals, companies, and governments on a metered pay-as-you-go basis. Using AWS, businesses can take advantage of Amazon's expertise and economies of scale to -access resources when their business needs them, delivering results faster and at a lower cost. Amazon Web Services provides a highly reliable, scalable, low-cost infrastructure platform in the cloud that powers businesses in 190 countries worldwide.
AWS Smart Store capabilities help transform customer experience, reduce costs through automation, and offer unprecedented opportunities to stand out from the competition. AWS provides innovative technology offerings that accelerate retailers' modernization and innovation across all areas in the enterprise. These include Customer Engagement; Supply Chain and Distribution; Physical, Digital, and Virtual Store; Advanced Retail Data Science; and Core Retail Business Applications. AWS offers strategy and deployment services to retailers to help accelerate their digital transformation.
Popular Mentions: Bridgei2i Analytics Solutions, MicroStrategy Incorporated, Informatica, Domo, Inc., and Teradata
Amidst this crisis, Meticulous Research® is continuously assessing the impact of COVID-19 pandemic on various sub-markets and enables global organizations to strategize for the post-COVID-19 world and sustain their growth. Let us know if you would like to assess the impact of COVID-19 on this industry here – Get Sample PDF with all Graphs and Charts 

Authoritative Research on the Retail Analytics Market – Global Opportunity Analysis and Industry Forecast (2020-2027)
Need more information? Meticulous Research® new report covers each of these companies in much more detail, providing analysis on the following:
Recent financial performance
Key products
Significant company strategies
Partnerships and acquisitions
Impact of Covid 19
The Comprehensive report provides global market size estimates, market share analysis, revenue numbers, and coverage of key issues and trends.
Please download report pages and learn more: