The global industrial margarine market is anticipated to reach USD 2,945.5 million by 2023 at a CAGR of 3.0%. This is primarily attributed to the increasing consumption of margarine, growing bakery and confectionery industry, and its low price.
Margarines are foodstuffs that are used mainly for spreading, baking, and cooking processes. Margarines are rich sources of fat and provide energy. In the recent decades, the industry has responded to various consumer needs and scientific developments. The food industry has made significant changes to the way margarine, fats, and oils are produced and processed in order to provide significantly "healthier" options to consumers with respect to fat choice.
Here are the top 10 companies operating in industrial margarine market –
Wilmar International Limited (Singapore)

Founded in 1991 and headquartered at Singapore; Wilmar International Limited operates as an agribusiness company and is one of the leading producer of consumer pack table margarine, mayonnaise, and sauces. The Company operates through four segments, namely Tropical Oils, Oilseeds and Grains, Sugar, and Others; margarine is provided under the brand name of blue team cake for bakery products.
The Company primarily operates in North America, Europe, Asia Pacific, Latin America, and Middle East and Africa.
Bunge Limited (U.S.)

Founded in 1818 and headquartered at New York, U.S; Bunge Limited operates as an agribusiness and food company. The Company operates through five segments, namely Agribusiness, Edible Oil Products, Milling Products, Sugar & Bioenergy, and Fertilizer. Margarine is provided under the Edible Oil Products segment.
The Company primarily operates in North America, Europe, Asia Pacific, Latin America, and Rest of World.
Conagra Brands, Inc. (U.S.)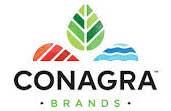 Founded in 1919 and headquartered at Chicago, U.S; Conagra Brands, Inc. operates through five business segments, such as Grocery & Snacks, Refrigerated & Frozen, International, Foodservice, and Commercial. Margarine is produced and sold under the brand name Parkay. It comes in spreads, sticks, and squeeze and spray bottles for cooking, baking, and topping foods.
The Company primarily operates in U.S., Canada & Mexico
Puratos Group N.V. (Belgium)
Founded in 1919 and headquartered at Groot-Bijgaarden, Belgium; Puratos Group NV produces and distributes ingredients and solutions for bakery ingredients, patisserie, and chocolate sectors in Belgium and internationally. The Company offers margarine and specialty fats under the bakery ingredients product category.
The Company primarily operates in North America, Europe, Asia Pacific, Latin America, Middle East, and Africa
Fuji Oil Holdings Inc. (Japan)

Founded in 1950 and headquartered at Osaka, Japan; FUJI OIL HOLDINGS INC. offers oils & fats, chocolate, whipping cream & margarine, fillings, cheese flavor ingredients, soy protein, and soy protein food products.
The Company develops, produces, and sells a range of food ingredients to Japan, China, Southeast Asia, Europe, and Americas
Richardson International Limited (Canada)

Founded in 1857 and headquartered at Winnipeg, Canada; Richardson International Limited operates in agriculture and food processing business. The Company is engaged in crushing, refining, processing, and packaging operations of oilseeds. Margarine is provided under oilseeds products category.
The Company primarily operates in Canada, the U.S., and the U.K.
NMGK Group (Russia)

Founded in 1898 and headquartered in Nizhny Novgorod, Russia; NMGK Group is a leading Vegetable Oil and Fat Product manufacturers. The Company operates in various business segments such as Consumer Foods, Food ingredients, Soap & Beauty Products, Foodservice/HoReCa, and Oilseeds & Grain Operations.
Food Ingredients business unit provides specialty and non-specialty margarines & fats, emulsifiers & other surfacants, cocoa, and peanuts & other ingredients for the baking & the confectionary industries. Specialty margarines include margarines for puff pastry, margarines for sandy pastry, and margarines for creams.
The Company primarily operates in Russia
Currimjee Group (Mauritius)
Founded in 1890 and headquartered at Port Louis, Mauritius; Currimjee Group operates in seven specialized business clusters, namely Telecom, Media & IT, Food & Beverages, Real Estates, Energy, Commerce and Financial Services, Tourism & Hospitality, and Home & Personal Care. The Currimjee Food & Beverages cluster includes Margarine Industries Limited (MIL) which manufactures and distributes Table Margarine (both refrigerated and non-refrigerated), Spread, Industrial Margarine, Vanaspati (vegetable ghee), Shortening, Table & Industrial Butter and Ghee.
The Company primarily operates in Mauritius.
EFKO Group (Russia)

Founded in 1992 and headquartered at Voronezh, Russia; EFKO Group is engaged in producing specialized fats used in confectionery, baking, and other sectors of food industry. The Company manufactures a wide range of premium quality industrial margarines for production of pastry and bakery products. The product range includes universal and specialized industrial margarines.
The company mainly operates in Russia
Vandemoortele N.V. (Belgium)

Founded in 1899 and headquartered at Ghent, Belgium; Vandemoortele NV operates through two business segments, namely Bakery Products; and Margarines, Culinary Oils and Fats. The Company produces margarine under the various brand names such as GOLDCUP, BAKER'S MARGARINES, OPAL, RISSO, and ST-ALLERY. Vandemoortele NV is a subsidiary of Safinco NV.
The Company primarily operates in France, Germany, Belgium, the Netherlands, Italy, the U.K, Spain, the Czech Republic, Slovakia, and Rest of Europe.
Popular mentions- Remia C.V. (Netherlands), Aigremont N.V. (Belgium), Royale Lacroix S.A. (Belgium)
Authoritative Research on the Industrial Margarine Market – Global Opportunity Analysis and Industry Forecast (2018-2023)
Need more information? Meticulous Research®'s new report covers each of these companies in much more detail, providing analysis on the following:
Recent financial performance
Key products
Significant company strategies
Partnerships and acquisitions
Comprehensive report provides global market size estimates, market share analysis, revenue numbers, and coverage of key issues and trends.
Please download report pages and learn more: