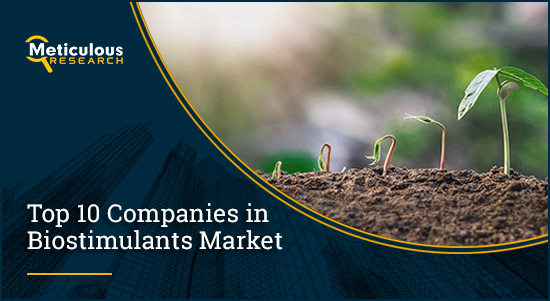 The Biostimulants Market is expected to grow at a CAGR of 12.4% from 2021 to reach $5.9 billion by 2028, while in terms of volume, the market is expected to grow at a CAGR of 12.9% from 2021 to reach 864,094.7 metric tons by 2028. In order to fulfill the food demand of growing population, advanced productive agricultural materials are required. Over the last several decades, tremendous efforts are being taken to improve the agricultural yields through extensive application of chemicals that have long-lasting and profound effects on the environment and human being. Therefore, to feed the world population without damaging environment, the use of biological products such as biostimulants is increasing significantly across the globe. This is the main reason that number of major multinationals have jumped into the biostimulants market in the recent years.
Here are the top 10 companies operating in Biostimulants Market–
Marrone Bio Innovation
Founded in 2006 and headquartered at California, the U.S., Marrone Bio Innovations, Inc. is involved in bio-based pest management and supply of plant health products primarily for agricultural and water markets internationally. The company offers herbicides; fungicides; fumigants, nematicides; insecticides; algaecides for algae control; molluscicides for mussel and snail control; plant growth and stress regulators; and water treatment products.
The company primarily provides its products in the U.S. and sells its products in Europe, Latin America, and Asia-Pacific regions through its distributors.
Biolchim SpA
Founded in 1972 and headquartered at Medicina, Italy; Biolchim SpA is involved in the production and commercialization of special fertilizers and biostimulants. The company offers a portfolio of biostimulants based on botanical extracts and natural compounds.
Based in Italy, where the production lines and the extraction units are located, Biolchim is active in more than 50 countries in Europe, Africa, Asia, and South America. In Brazil, Germany, and Hungary, Biolchim operates directly through subsidiaries; in other countries, Biolchim is active through a strong and reliable network of partnerships with independent distributors and importers.
Valagro SpA
Founded in 1980 and headquartered at Atessa, Italy, Valagro S.p.A. is engaged in providing solutions for the nutrition and wellbeing of plants. The company offers farm products, such as biostimulants, micronutrients, foliar fertilizers, fertigators, and other products; professional solutions for the maintenance of lawns and ornamental plants; and a range of industrial products from amino acids to chelated trace elements and from adjuvant to seaweed extracts.
With its subsidiaries in Spain, Greece, Mexico, Columbia, Brazil, the U.S., Norway, the U.K., New Zealand, Turkey, and France; the company has its geographic presence in North America, South America, Europe, Asia-Pacific, and the Middle East & Africa.
Biostadt India Limited
Founded in 1987 and headquartered at Mumbai, India; Biostadt India Limited is engaged in manufacturing and distributing biotechnology research based agro inputs. The company offers plant growth stimulants in granules, liquid, and specialty form.
The company has its geographic presence in the North America, Europe, Asia-Pacific, and the Middle East & Africa.
Andermatt Biocontrol AG
Founded in 1988 and headquartered at Switzerland; Andermatt Biocontol AG is mainly involved in biological based plant protection. The Company specialized in production of baculoviruses and entomopathogenic nematodes, as well as beneficial insects for greenhouses and stored products. It also offers bioinsecticides, biofungicides, biostimulants/bioinnoculants, rodent control and diverse products.
The Company has subsidiaries in France, South Africa, Brazil, and Canada. With these subsidiaries and more than 80 distributors, the Company sells its products across the globe. As of 2016, the Company had a headcount of 80 employes.
A report into the projected growth of the current Biostimulants Market by Meticulous Research® has produced some incredible forecasts for the industry. By 2028, it's expected to have grown at a CAGR of 12.4%, reaching over $5.59 billion.
Koppert B.V.
Founded in 1967 and headquartered at Berkel en Rodenrijs, the Netherlands; Koppert B.V. is engaged in research and development, production, and distribution of biological solutions worldwide. The company offers pesticides; pollination systems; distribution appliances; monitoring solutions; and BioMotus.
With subsidiaries in Belgium, Brazil, Canada, Chile, China, Colombia, Ecuador, France, Germany, Greece, India, Italy, Kenya, Mexico, Morocco, the Philippines, Poland, the Russian Federation, Slovakia, South Africa, South-Korea, Spain, the Netherlands, Turkey, the U.K., and the U.S., the company has its geographic presence across North America, Europe, Asia-Pacific, and the Middle East & Africa regions.
BASF SE
Founded in 1865 and headquartered at Ludwigshafen, Germany; BASF Corporation is involved in the chemical and agriculture sector. The company operates through five business divisions, namely chemicals, performance products, functional materials & solutions, agricultural solutions, and oil & gas. It provides crop science services in the areas of crop protection and non-agricultural pest control. The company offers chemical and biological crop protection products and solutions, including fungicides, herbicides, insecticides, soil fumigants, seeds & seed growth solutions, and services for sustainable agriculture.
With 57 global and regional business units, the company has its geographic presence in 80 countries across the North America, Europe, Asia-Pacific, and the Middle East & Africa.
Trade Corporation International (Part of Sapec group)
Founded in 1985 and headquartered at Midrid, Spain, Trade Corporation International operates as a part of Sapec group. The company is engaged in micronutrients and specialty fertilizers. The company offers chelates, foliar fertilizers, humics, biostimulants, NPK and starters, special correctors, and organic agriculture products.
The company has its geographic presence in 60 countries across the North America, Europe, Asia-Pacific, and the Middle East & Africa.
Italpollina S.p.A.
Founded in 1971 and headquartered at Rivoli Veronese, Italy; Italpollina SpA is engaged in the production and distribution of fertilizers. The company offers organic, nitrogen, phosphorus, and potassium fertilizers; bio-stimulants; leaf liquid integrators; and amino acids.
The company has its geographic presence in more than 60 countries across the world.
Micromix Plant Health Ltd.
Founded in 1987 and headquartered at Nottinghamshire, the U.K., Micromix Plant Health Ltd. is engaged in developing, manufacturing, and distributing the products and formulation for agrochemical industry. The company offers broad range of micronutrients, biostimulants, adjuvants, additives, and spraying aids.
The company has its geographic presence in the North America, Europe, Asia-Pacific, and the Middle East & Africa.
Popular Mentions: FMC Corporation, BioAtlantis Ltd., Haifa Chemicals Ltd., Agrinos AS, SICIT 2000 SPA, Som Phytopharma India Limited, Monsanto Company, Novozymes Inc., Isagro SPA, Syngenta International AG, Bioatlantis LTD, Omex Agrifluids Ltd, Agrinos AS, Plant Healthcare PLC, Haifa Chemicals Ltd. And Eurochem Group AG
Authoritative Research on the Biostimulants Market – Global Opportunity Analysis and Industry Forecast (2019-2025)
Need more information? Meticulous Research®'s new report covers each of these companies in much more detail, providing analysis on the following:
Recent financial performance
Key products
Significant company strategies
Partnerships and acquisitions
The Comprehensive report provides global market size estimates, market share analysis, revenue numbers, and coverage of key issues and trends.
Please download report pages and learn more: