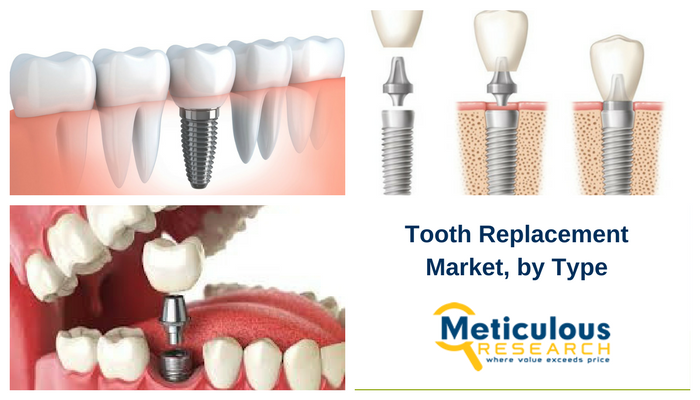 Dental implants offer a modern way to replace missing teeth, with a long-term solution that is as close to natural teeth as possible. The dental implant replaces the missing tooth root, leaving the healthy neighboring teeth intact. The implant also acts as a support for the implant crown by transmitting chewing forces to the jaw to avoid bone resorption.
Global dental implants market is expected to reach USD 4,497.1 million by 2022 supported by a CAGR of 6.1% during the forecast period of 2017 to 2022. It is driven by the rising geriatric and edentulous population, increasing incidence of various chronic diseases, growing dental tourism in the emerging markets, increasing disposable incomes in the developing countries, growing integrated dental clinics, and increasing demand of aesthetic & cosmetic dentistry. In addition, growing CAD/CAM industry and rising number of integrated dental clinics provide significant opportunities for the dental implants stakeholders. However, high risk of dental loss linked with dental bridges, high cost of treatment, and difficulty in maintaining oral hygiene hinders the adoption of dental implants to some extent. Moreover, limited reimbursement and pricing pressure faced by the key market players are the major challenges faced by the key players in this market.
The high cost of dental implants is a leading factor inhibiting the growth of the dental implants in certain geographies. As the dental implants manufactured by the major players are expensive, most of the patients, especially from the developing nations are looking for the alternative cost effective solutions. This factor has led to the development of cost-effective products by the local players in various countries such as South Korea, China, Australia, and India among others. The broadening gap of quality differences between imported and local products has allowed medical professionals in developing countries to use cost-effective products.
According to the WHO, the global geriatric population is expected to reach 9.3% by 2020, from 8.5% in 2015. Among geriatric population, the chronic disease prevalence rate is 64/1,000 persons. According to WHO, Europe has the largest percentage of geriatric population with around 17.3% in 2015 which was around 16.3% in 2010. The percentage share of the geriatric population in North America has increased from 13.2% in 2010 to 14.8% in 2015. This trend of rapid rise in elderly population is also observed in other regions globally, which is expected to increase the number of patients suffering from chronic diseases, consequently increasing the demand for various health services. The Asia-Pacific region is currently home to about 60% of the world's population of older persons, defined as people at 60 years or older.
With age, there are increasing incidences of chronic diseases such as neuropathic disorders, old age-related trauma, and osteoarthritis. These diseases can lead to serious gum problems and can lead to complications such as temporomandibular joint disorder. Dental implants are emerging as an efficient and permanent solution for geriatric and edentulous population, as the implantation is a preferred treatment approach among dentists for replacing missing teeth, and it is considered as a long-term solution for edentate population.
Recently, Meticulous Research has published a comprehensive report, titled "Tooth Replacement Market: Global Opportunity Analysis and Industry Forecasts To 2022". According to Meticulous Research estimates, the global tooth replacement market is projected to reach USD 13,035.2 million by 2022.
The tooth replacement market study, published by Meticulous Research, can be downloaded at: https://www.meticulousresearch.com/download-sample-report/cp_id=3155