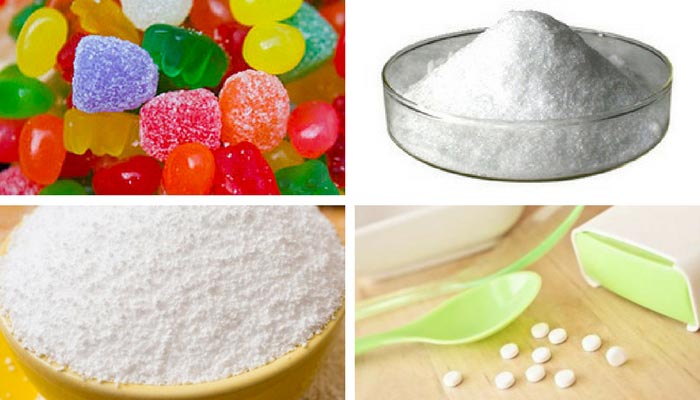 Sorbitol (E-420) also known as D-sorbitol, D-Glucitol or D-glucohexanehexol is derived by the catalytic hydrogenation of glucose and is available in both liquid and crystalline form. Commercially it is obtained by high-pressure hydrogenation of glucose solutions using a nickel catalyst. Sorbitol is about 60% as sweet as sucrose with less calories (2.6 kcal/g), which increased its use as an alternative for sugar in low calorie controlled diet. It has smooth mouth feel with a sweet, cool, and pleasant taste.
Owing to the increasing preference for low-sugar content and calorie controlled diet, the adoption of artificial sweeteners has increased rapidly. Sorbitol is extensively used in various food and beverage, cosmetics and personal care, and pharmaceutical applications, as it is a low-calorie sweetener with unique sensorial and functional properties. It improves the taste of the food and also adds health and nutritional benefits to the products.
The cosmetic & personal care industry is the major adopter of sorbitol in the global market as it is an excellent humectant and texturizing agent which has increased its applications in oral care products such as mouthwash, toothpaste, and chewing gums. The rising awareness among people regarding the basic hygiene is one of the driving factors for the growing adoption of sorbitol in the cosmetics and personal care industry. Also, with the increase in the capital spending and income level, the importance of personal hygiene and use of cosmetic products have been increased in the recent years.
With the growing disposable incomes and thereby the adoption of advanced cosmetic procedures, the cosmetic and personal care industry is expected to witness significant growth in the next few years. In the U.S. which is the largest market for sorbitol, major growth was observed in the skin care, hair care, and color cosmetics industry. The major growth in the cosmetic industry is observed due to the increased consumer awareness of grooming products and celebrity endorsements of the brands. In addition, fueled by the changing lifestyle and climatic conditions, the demand for skin and sun care products is also expected to increase in the near future. Rising demand for the natural cosmetic products further propels the growth of the cosmetic and personal care industry across the globe.
Thus, with the growth in the cosmetic and personal care industry, the adoption of sorbitol is also expected to increase significantly in the next few years.
The global sorbitol market is expected to grow at a CAGR of 3.9% to reach USD 1,585.4 million by 2022, according to the recently published study by Meticulous Research.
Browse in depth Report: Sorbitol Market- Global Opportunity Analysis and Industry Forecasts to 2022