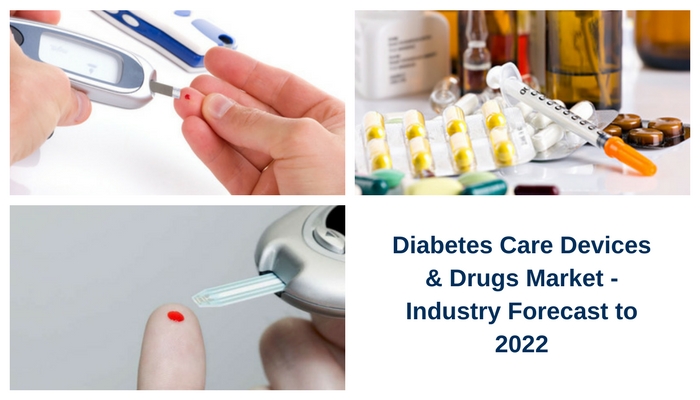 The global diabetes care devices & drugs market is expected to grow at a CAGR of 5.2% to reach USD 85.6 billion by 2022, according to the Meticulous Research™. Diabetes is one of the largest global health emergencies of the 21st century. The incidence & prevalence of diabetes has significantly increased in the last decade and is also expected to rise in the coming future.
According to the International Diabetes Federation (IDF), globally, 415 million people had diabetes in 2015; this number is expected to increase to 642 million by 2040. In the North America, the diabetes population was around 44.3 million in 2015. Similarly, according to the IDF, the number of people with diabetes in Europe was 59.8 million in 2015, which is expected to rise to 71.1 million by 2040. Significant growth is observed in diabetes prevalence in BRIC countries as well. As of 2015, there were around 109.6 million people living with diabetes in China and is expected to grow to 150.7 million by 2035. It has the world's largest diabetes population, followed by India with 69.2 million in 2015 (projected – 123.5.0 million by 2035).
Browse in depth Report: Diabetes Care Devices & Drugs Market- Global Opportunity Analysis and Industry Forecast (2017-2022)
The significant growth in diabetes population is primarily attributed to the rising obesity rates across the globe, and increasing sedentary lifestyle with poor diets and lowered physical inactivity. According to the World Health Organization (WHO), in 2014, around 39% adults were overweight. Of these about 13% of the world's adult population were obese; and almost half the world will be overweight or obese by 2030. With increasing levels of obesity and physical inactivity among children in many countries, type 2 diabetes in childhood has the potential to become a global public health issue, leading to serious health outcomes. The ignorance of the diabetes at early stage can lead to many severe complications, including increased risk of cardiovascular diseases and kidney disorders and thereby huge financial implications.
Thus, with the rising obese population and lifestyle changes, there is significant increase in the number of diabetic population which is contributing to the adoption of diabetes care drugs and devices for the timely diagnosis, monitoring, and treatment of diabetes.
To download a sample report on diabetes care devices & drugs market, please visit below link:
https://www.meticulousresearch.com/download-sample-report/?cp_id=3305